June 2010: WoW-Pro Leveling Addon, Icecrown Citadel Video Guides, Newb No More Guide gets credit from Blizzard!

WoW-Pro Leveling Addon, Icecrown Citadel Video Guides and Newb No More guide gets credit from Blizzard!
The new WoW-Pro Leveling Addon is progressing nicely! And we've also got a new series of guides for the Icecrown Citadel 10-Man instance.
I'm also very enthusiast about our recently revamped "Newb no more" guide, which has drawn Blizzard's attention positively and is now listed on the official wow website!
---
WoW-Pro Leveling Addon Version 0.4!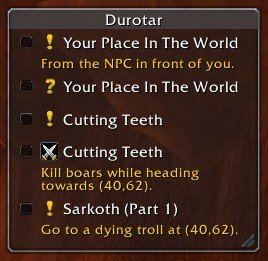 The addon just got updated to v0.4. Jiyambi is still working very hard on it and is still getting a lot of support from wow-pro members. The addon is now in a stable state!
List of fixes:
More stability fixes
A HUGE thanks to Shakasahn for fixing the "arrow points in a crazy direction on load up" issue. You rock!
A few other minor bug fixes including the funkiness with the guide progress column in the guide list.
Many more features are currently being implemented and more leveling guides will be integrated in the near future.
If you want to know all the details and be one of the first to try our leveling addon, simply visit our WoW-Pro Leveling Addon page.
If you want to test the addon and help with improving it, you can get the latest version here.
---
Icecrown Citadel 10-Man Video Guides
Hales recently added a series of Video Guides for the 10-Man version of the Icecrown Citadel instance. The guide is divided in 6 parts.
This should help players who are new to this instance, but it could also very well teach a few things to the more experienced raiders out there. Definitely worth checking out!
---
Newb No More Guide on the official World of Warcraft guides page

The Newb-No-More-Guide, which was originally written by Bladetooth on wow-pro a few years ago, recently got a serious facelift thanks to Lycander. Shortly after the revamp, the guide drew blizzard's attention and was added to their game guides, in the general links section.
Of course, this is not the first wow-pro guide on the official website, both my Horde and Alliance leveling guides have been there for quite some time, as well as a few other class specific guides, but it always makes me happy when the hard work of wow-pro members gets some credit!
In case you've never looked at this wow beginner guide, I suggest you do, even if you aren't a newbie. The guide is simply stunning, it's an encyclopedia of anything you could ever teach to a wow newbie. If you have any friends of yours who started wow recently, I highly recommend that you direct them to that guide.
---
Last but not least, if you
don't want to miss the latest news on our leveling guides
, addons and other guides, you should definitely
follow us on twitter
!

See you soon on Azeroth!
-Jame