The revisions let you track differences between multiple versions of a post.
Revision of The Rebirth of Paladin Healing 4.0.1 from Tue, 2010-10-05 17:50

Good Morning WoW Community! I am sure you are hearing a lot of horror stories about the new realms of healing in the upcoming patch, and may be worried about how your favourite class, the Holy Paladin, is going to be effected. In truth, so was I.
Fear not however, as Holy Paladin are still going to be a very competent and a much more well rounded healing class.
There are some things you need to know, however, and I will be going over these spells and talents with you in this guide, and offering my insight as I see it.
Before we get going I want to thank ranran90 for the pre 4.0.1 Holy Paladin Guide and I will most likely quote from that guide in certain places; fear not, credit will be given as I do so.

Table of Contents

Part One - The Spells
As you may by now be aware, we only have 35 talent points as a level 80 character, and we get bonus talents and spells dictated by how many points we spend in a particular talent tree. Some of our spells are changed considerably. To make these changes more eyecatching I will color code the text to help point out the following:
Red - Totally new
Orange - Major Change
Green - Minor Change
Black - No Change
Aura Mastery - Instant Cast; 2 minute Cooldown
Causes your Concentration Aura to make all affected targets immune to Silence and Interrupt effects and improve the effects of all other aura by 100% for 6 seconds


Beacon of Light - Instant Cast; 60yd range
The target becomes a Beacon of Light to all members of your raid or party within a 60yard radius. Each heal you cast on party members will also heal the Beacon for 50% of the amount healed. Only one target can be the Beacon of Light at a time. Lasts for 1.50 min.
Change Tracker: The beacon only recieves 50% healing now instead of 100%; this may significantly reduce our overhealing. We may now also find ourselves directly healing the BOL; which sounds dumb, but with talent points, will generate the all new Holy Power.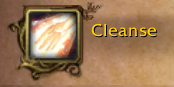 Cleanse - Instant Cast; 40yd range
Cleanses a friendly target, removing 1 Poison effect and 1 Disease effect.
Change Tracker: Basically Cleanse and Purify have been combined to one spell. With talents, this will also be able to purge a Magic Effect also. I will do some research as if one cleanse will remove all debuffs at the same time, or if you have to cast the spell multiple times to remove multiple debuffs. My hope is this is not the case, if so we are spending a lot of global cool downs in a debuff intense fight.


Concentration Aura
All party or raid members within 40 yards lose 35% less casting or channeling time when damaged. Players may only have one Aura on them per Paladin at any one time.

Divine Favor; Instant Cast; 3Minute Cooldown
Increases your spell casting haste by 20% and spell critical chance by 20% for 20 sec.
Change Tracker: This replaces Divine Illumination. Divine Illumination reduced mana consumption by 50%. Now it seems we have a mini Heroism/Bloodlust all to ourselves. If this ability is popped at the same time as Heroism/Bloodlust I can imagine the effects will be violent

Divine Light; 40 yd range, 3 sec cast; 30% of base mana
A large heal that heals a friendly target. Good for periods of heavy damage.
Change Tracker: This is a new direct heal that in my opinion replaces Holy Light as we know it now. It casts the same speed, it heals for about the same amount; so basically, this is out new big heal. (30% of your base mana, is basically the mana you would have if you was wearing no gear at all.)
Divine Plea - Instant Cast; 2min cooldown
You gain 10% of your total mana over 15 sec, but the amount healed by your healing spells is reduced by 50%.
Change Tracker: They have slashed the mana regeneration again. Now it is only 10%. However with Glyphs this is increased to 15% By the looks of Divine Favor, you will almost certainly want to pop this at the same time as Divin Plea or during times of softer damage.



Exorcism - 30% of base mana, 30 yd range, 1.5 sec cast
Causes Holy damage to an enemy target. If the target is Undead or Demon, it will always critically hit.


Flash of Light & Holy Light
Flash of Light - 27% of base mana, 40 yd range, 1.5 sec cast
A quick, expensive heal that heals a friendly target for a modest amount.
Holy Light - 9% of base mana, 40 yd range, 3 sec cast
Heals a friendly target for a smaller amount.
Chage Tracker; Basically our two core skills are now totally changed. With my current gear, the new base heal amounts are
Flash - 7005
Holy Light - 3991
So flash is a fast strong heal consuming a good amount of mana, and Holy Light is a small heal, very low mana cost, and slower. I have been thinking about this long and hard, because I was thinking, With Devine Light what possible use is a slow soft heal when we have Divine Light and Flash of Light. After really discussing this; Holy Light will be the top up spell which is greatly impacted by haste. So come Cataclysm I think Paladins will ultimately put a lot of stock into haste to use Holy light, in a similar way to who we currently use flash of light. What i think blizzard have tried to do is to get rid of the spam flash mentality that some people have fallen into. We can no longer heal a nice fast soft heal made good by a tonne of crit. I hope this provokes a lot of discussion in the comments.
In the general order of our direct cast heals:
Divine Light = Strongest heal, Slow and Mana Hungry (30% Base Mana)
Good For Spike Damage on multiple targets when used in conjunction with Beacon of Light
Flash of Light = Moderate heal, Fast and Mana Hungry (27% Base Mana)
Clutch heal for Spike Damage on a direct target. The benefits of this spell thansfered onto your Beacon of Light target are good, but I would possibly use this spell to directly heal the beacon target (yes, actually placing a direct heal onto someone with beacon) in quick succession to generate quick charges of Holy Power.
Holy Light = Weaker heal, Slow (same as Divin Light) and Mana Generous (9% Base Mana)
Heal used for topping off raid members or tanks in periods of predicatble and/or soft damage. It can be good in conjunction with Beacon of Light, IF the Beacon target is NOT your primary heal target. This heal may also be a great heal to use when under the effects of Heroism/Bloodlust, and/or Divine Favor, however not when using Divine Plea.
[img]
http://i92.photobucket.com/albums/l36/jezzerusuk/hs.png[/img]

Holy Shock - 8% of base mana, 20(enemy)/40(friendly) yd range, Instant cast, 6 sec cooldown
Blasts the target with Holy energy, causing Holy damage to an enemy, or healing to an ally, and grants a charge of Holy Power.

Change Tracker; This spell is HEAVILY effected by a passive talent called Daybreak. You will basically stand a 10/20% chance of using a double Holy Shock; thus generating 2 quick charges of Holy Power. This however does not overide the GCD; so this needs to be handled inteligently. In addition to that, you can also spec into a talent called Speed of Light and Infusion of Light. Which Holy Shock directly effects.