The revisions let you track differences between multiple versions of a post.
Revision of Choosing Sides: A Guide on Gnomish and Goblin Engineering from Tue, 2009-07-21 07:28

Table of Contents
---
Introduction
---
Well, I've seen a lot of people requesting "guides" on which specialization in Engineering they should go (either Goblin or Gnomish) and since recently leveling Engineering for a second time, I decided I'd fulfill that plea by creating this guide on choosing your path. Also this is my first time writing a guide, so bare with me.
Now without further ado, let's get started.

---
Tinkerwiz
---
First, let's start with Tinkerwiz.
As his name suggests he is...well a wiz of tinkering. When you reach 200 Engineering you can visit this guy in Ratchet and pick either one of two quests: Goblin Engineering or Gnomish Engineering (Alliance Version). Picking a quest will not immediately set your Engineering to that specialization, but instead refer you to the proper trainer for each specialization. So you still have time after accepting the quest to change your mind.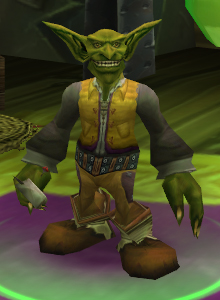 ---
Choosing A Side
---
Goblin Engineering
If you accepted Goblin Engineering, head on down to Gadgetzan in Northern Tanaris. When you arrive, you'll find Nixx Sprocketspring in a small hut next to the Inn. Now when you turn in your quest, Nixx, will give you The Pledge of Secrecy. At this point you can still make a last minute decision to change your mind.
Goblin Engineering allows you to make ingenious explosives and even a Rocket Launcher. Unlike Gnomish Engineering, Goblin devices never fail catastrophically and always work, they just either harm you severely or otherwise kill you. Now, when you turn in this quest, there's no turning back. Your Engineering is intertwined with Goblin Engineering permanently and only certain means can reverse the damage done and those "means" aren't exactly easy to achieve. I'll get into that later on in the guide.
Note: Goblin Engineering may be better for Alliance trying to grind reputation with the Wintersaber Trainers as a direct portal to Winterspring is available exclusively to Goblin Engineers.
After that, Nixx will give you Show Your Work, which requires you to make 20 Big Iron Bombs, 20 Solid Dynamites and 5 Explosive Sheeps.
The Breakdown on all the Materials are:
Iron Barx30
Silk Clothx10
Wool Clothx20
Heavy Stonex40
Solid Stonex20
Bronze Barx20
Medium Leatherx5
Silver Barx2
Once you've made your bombs and exploding sheeps, it's time to turn in your quest and start really making some cool explosive devices /cheer.
Congratulations, you are now a Goblin Engineer Throughout the rest of your Engineering days you'll be able to make cool and dangerous gadgets like Dimensional Ripper - Area 52 and Goblin Rocket Launcher.
---
Gnomish Engineering
If you accepted Gnomish Engineering, take the boat to Booty Bay and go to Oglethorpe Obnoticus [Coords: 28,76]. If your Alliance, go to Tinker Town in Ironforge and talk to Tinkmaster Overspark. Turn in your quest and get the followup,