October 2008: WOTLK Guides, Karma System, New Videos and More!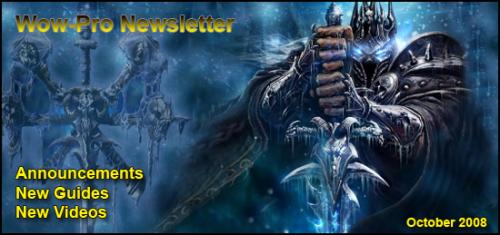 What a crazy month it has been. The Wow-Pro community is booming. Dozens of new users register everyday and start to write guides, help other people out and post very useful comments. To keep track of all that, I'll be posting a newsletter every month (or maybe every week in the future), to summarize every major thing happening on Wow-Pro:
---
General Announcements
---
Community Announcements
Congratulations to Shikamaru for being the first wow-pro member to attain the Revered rank!

A TOP 10 Karma Ranking will be posted on Friday 31st October. That's tomorrow!
---
New High Quality Guides
General
---
Death Knight
For more information about Death Knights, check my blog and our Death Knight Section.
---
Rogue
---
Gold Making
Get ready for Wrath of the Lich King, farm gold to finance your future mounts, enchants, etc.
If that's not enough, check our Gold Making Guides section.
---
Tradeskills
Inscription
Leatherworking
---
Videos
---
And of course, don't forget to check our Front Page and our Release Dates to get the latest news from wow-pro.
Thanks everyone for this great month, let's make the next ones even better!
-Jame